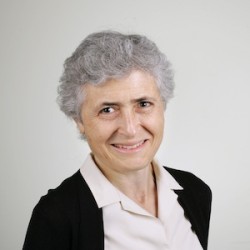 Senior Fellow, Transportation
Therese Langer works to improve the efficiency of both vehicles and systems for the movement of passengers and freight. Her current areas of focus include: advancing technologies and policies to improve light- and heavy-duty fuel economy; integrating transportation into greenhouse gas reduction programs at the state and national levels; quantifying the economic impacts of overdependence on oil; expanding the multi-modal goods movement infrastructure; and understanding consumers' vehicle purchase decisions. She joined ACEEE in 2001.
Prior to joining ACEEE, Therese was staff scientist for the Rutgers University Environmental Law Clinic, working to make the transportation system in the greater New York metropolitan area more sustainable.
Therese holds a PhD in mathematics from UC Berkeley.