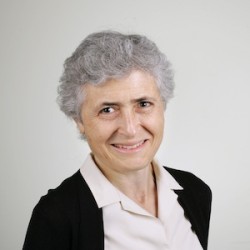 Senior Fellow, Transportation
Therese Langer works to improve the efficiency of both vehicles and systems for the movement of passengers and freight. Her current areas of focus include technologies and policies to improve vehicle fuel efficiency, digitalization of goods movement to reduce emissions, and sustainable urban freight systems. She was director of ACEEE's transportation program from 2001 to 2020.
Therese served on the National Academies of Sciences, Engineering and Medicine Committees on Assessment of Technologies for Improving Fuel Economy of Light-Duty Vehicles, Phases 2 and 3. She holds a PhD in mathematics from UC Berkeley.
Presentation titles:
National Academies light-duty fuel economy report: findings on CAV technology energy impacts
National Academies light-duty fuel economy report: policy recommendations to ensure CAV technology energy benefits