The 15th edition of the ACEEE State Energy Efficiency Scorecard provides an update on state energy efficiency policies and programs that save energy, advance equity, and produce environmental and economic benefits. The scorecard ranks states in six policy areas: utility programs, transportation, building energy codes, state initiatives, industrial energy efficiency, and appliance standards. This year's scorecard has an expanded focus on equitable energy efficiency policies that reduce energy burdens for low-income and disadvantaged households and historically underserved communities. Top finishers in this year's scorecard include California, Massachusetts, New York, Vermont, and Maine, which was the most-improved state in 2022. The state scorecard shows that energy efficiency is a key resource, with utilities saving 26.6 million MWh of electricity nationwide in 2021.
Highlights of each state's progress are included in the fact sheets linked below. To find extended details on each state's energy efficiency efforts, visit our state and local policy database.
The 2022 State Energy Efficiency Scorecard
Click an individual state to view its state fact sheet. Click here to view map full-screen.
Click here for a static version of the map.

1. California
2. Massachusetts
3. New York
4. Vermont
5. Maine
6. District of Columbia
7. Rhode Island
7. Maryland
9. Connecticut
10. Minnesota
11. Oregon
11. Washington
13. Colorado
14. New Jersey
15. Michigan
16. Illinois
17. Hawaii
18. Delaware
19. New Hampshire
20. Virginia
21. Pennsylvania
21. Nevada
23. Utah
23. New Mexico
25. North Carolina
26. Wisconsin
26. Arizona
28. Tennessee
29. Missouri
29. Montana
29. Texas
29. Florida
33. Idaho
34. Indiana

35. Iowa
35. Nebraska
37. Arkansas
38. Kentucky
39. Georgia
39. Alaska
41. Oklahoma
41. Alabama
43. North Dakota
44. West Virginia
44. Ohio
46. Mississippi
46. Louisiana
46. South Dakota
49. South Carolina
49. Kansas
51. Wyoming
Regional Highlights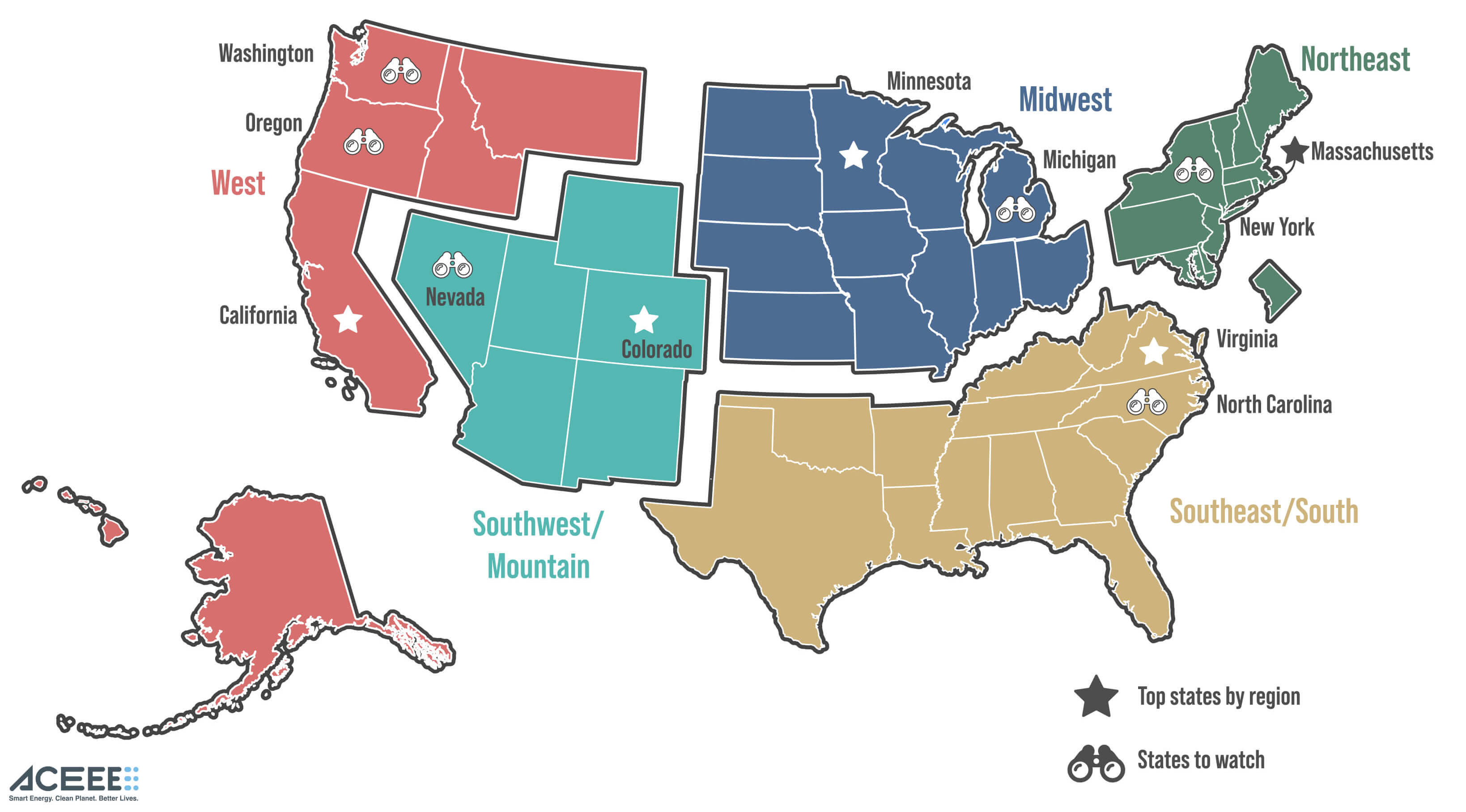 Regional "states to watch" have ranked highly in their region and offer promising models for their neighbors.