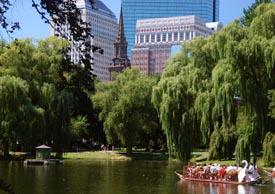 This month, ACEEE hosted its 6th Annual Energy Efficiency Finance Forum in Boston, Massachusetts. The event was attended by 250 representatives from utilities, banks, venture capital firms, energy efficiency program offices, real estate firms, nonprofit organizations, consulting firms, and state and local government offices. Participants enjoyed a rich program that featured presentations centered on this year's theme of "Getting to Scale."
Some overarching ideas from this year's conference include:
Data, data, data: There are numerous models for energy efficiency financing available on the market today, but in order to tap into the full potential of private sector capital investment, we need to focus on not just collecting but meaningfully recording and reporting data on the financial performance of existing products. Perhaps more importantly, there is a need for standardization of existing data.
Kerry O'Neill, of the Clean Energy Finance Center, during a panel on developing a secondary market for energy efficiency finance, also suggested that the field may be missing a data aggregation platform. There appear to be many opportunities for leaders in the field to dialogue and coordinate efforts on this particular issue.
...