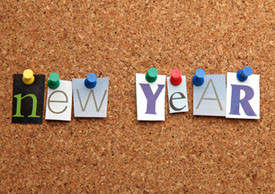 I start thinking about my New Year's resolution earlier than most. I like to think ahead and know what I'm getting into before committing. This year I could go to the gym more, eat fewer hamburgers, or do more traveling. OK, let's start with just one thing. Maybe I'll try to travel more. But how do I set the perfect goal for me? Where do I even start?
Thanks to my organization's work on community energy planning, I know I can use the SMART goal-setting framework to wrap my head around my plans.
Specific: Where do I want to go?
Measureable: Does my goal mean cover more miles, or see more new places?
Attainable: Can I really afford trips to England, France, and Germany?
Relevant: Would a trip to Germany and Japan be putting my language skills to use?
Time-bound: Will I achieve this all in one year or is my goal really about developing a new life-long habit?
Communities and large organizations can use this same framework to set their goals. Our new technical assistance toolkit piece, Local Government Energy Management Goals: Best Practices and...