Washington, DC—Prospective renters would be more likely to choose an energy-efficient home if they could compare rental units' energy costs, according to a first-of-its-kind experiment. The study, published today by the American Council for an Energy-Efficient Economy (ACEEE), shows that local or state policies requiring landlords to disclose efficiency information in rental listings could help tenants find lower-cost housing and spur building owners to make energy-saving improvements.
In the United States, renters searching for homes almost never know how much they will have to pay in energy costs, which are now rising. This is a particular challenge for low-income households, who are more likely to rent than own and pay a higher percentage of their income on energy bills. Only a few cities in the United States require building owners to disclose energy information to renters, and none require disclosure at the time of listing.
Register now for the report webinar today, May 17, at 1:00 p.m. ET
In ACEEE's study, participants using a mock real estate listing website—unknowingly being tested for their reaction to the energy information included—were more likely to choose rental homes with high efficiency ratings or low energy costs.
"How can renters possibly make informed decisions about which home to live in without being able to compare what their utility bills will be?" said Reuven Sussman, lead author of the report and director of the behavior and human dimensions program at ACEEE. "Our experiment showed that if renters have that energy cost or efficiency rating, it's absolutely going to affect their choices. It may also nudge landlords to make their buildings more efficient."
ACEEE hired a panel research firm to recruit a nationally representative sample of 2,455 renters to participate in a discrete choice experiment conducted through a mock rental listing website. Study participants "searched" for a home, specifying preferences including location, property type (house or apartment), number of bedrooms, and monthly rent. They were then shown three search results at a time and asked to select the rental unit they liked the most within each set.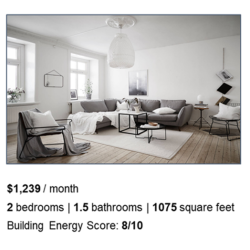 A sample apartment listing used in the experiment, in this case showing a Building Energy Score displayed via text.
Some participants saw information about the units' energy efficiency, presented in one of six possible formats, while those in a control group saw no energy information—as nearly all real-world renters currently experience with actual listings. When energy labels were present, renters selected the most efficient listings 21% more often than when energy efficiency information was hidden. On average, renters were willing to increase their monthly rent by 1.8% for a one-unit increase in energy score (on a scale from 1 to 10), which would translate into more than $400 of additional annual revenue for landlords for an average-priced rental unit.
The study also found that the way the energy information was presented mattered. Presenting energy labels for only the most efficient homes did not encourage study participants to choose them. For this reason, the study recommends that voluntary labeling should be only a stepping stone toward energy disclosure in all real estate listings. Local and state governments should require landlords to disclose this information.
Presenting energy information to renters through an intuitive scoring system is key. The study found that showing an energy rating along a continuum or simply as a score out of 10—helping renters understand how each unit compares to the best and worst homes—is more effective than showing this information without context.
An example of an energy score displayed along a continuum—which proved effective for influencing potential renters' choices
"You need to give prospective renters the basic energy information, but just as important, you need to display it to them in a way that gives them context and allows them to make a comparison," said Hannah Bastian, report coauthor and ACEEE senior research analyst.
The study builds on previous ACEEE research on energy labels for home buyers. Rental properties consume more energy per square foot than owner-occupied homes and are more likely to be occupied by low-income tenants and members of racial and ethnic minority groups. One challenge is that neither landlords nor renters have much incentive to invest in efficiency upgrades—landlords generally aren't the ones paying the energy bills, and renters might move out before the investments pay themselves back through savings.
ACEEE's findings point to an opportunity to incentivize efficiency upgrades. While the current lack of information available to renters prevents the rental market from accurately accounting for the value of energy efficiency, energy labeling could motivate landlords to improve the efficiency of their residential units—cutting renters' costs and, by reducing energy waste, helping combat the climate crisis. 
This Article Was About
Homes and Multifamily Buildings
Energy Efficiency Strategies and Upgrades
Building Policies and Codes
Media Contact
Ben Somberg
Communications Director