The American Council for an Energy-Efficient Economy (ACEEE) is engaged in a multi-year project to create or expand comprehensive building upgrade programs for market-rate and affordable multifamily housing through partnerships between utilities and the multifamily housing community. We provide program administrators with research on best practices for program design and implementation, direct no-cost technical assistance to improve their existing offerings, and a peer-to-peer working group to learn from one another's experiences.
The Savings Potential in Multifamily Buildings
Multifamily properties, those with apartment or condominium buildings, present a tremendous opportunity for energy savings. Comprehensive, cost-effective energy efficiency upgrades can improve the energy efficiency of these properties. ACEEE estimates that making such improvements in apartments and condominiums with high energy use can reduce multifamily residential energy use by 17% and save $3 billion in utility costs across the United States.
With building owners and other multifamily stakeholders, utilities can shape their programs to better address the needs of this sector.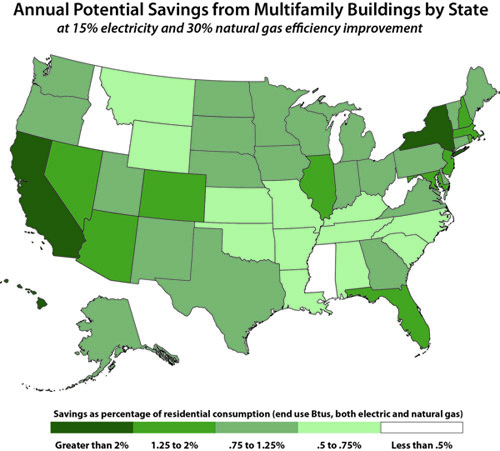 Participation
ACEEE welcomes new working group participants that are administrating, developing, implementing, or considering market rate or affordable multifamily energy efficiency programs. Our membership includes investor-owned utilities, co-ops, municipal utilities, and program administrators across the United States. At this time, the working group is only open to utility or statewide energy efficiency program representatives, or third-party administrators who are directly invited to participate by an energy utility. See below for more information on the working group.