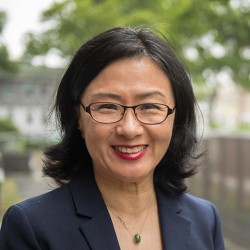 Vicki Kuo is Con Edison's Senior Vice President for Customer Energy Solutions. She is responsible for leading the company's delivery of energy efficiency and demand management, heating and transportation electrification and distributed resource planning initiatives that support a clean energy future. This includes utilizing customer-side and clean energy alternatives such as non-wires and non-pipeline solutions to help meet system demands.  Vicki's team works with customers, policymakers and environmental advocates to shape and achieve New York's climate goals.     
Vicki has held positions of increasing responsibility within Con Edison Inc.'s regulated and unregulated businesses. She's worked in many areas including engineering, IT, strategic planning and emerging technologies. Vicki has been at the forefront of the company's expansion in energy efficiency for more than 10 years. 
She has also worked in the cybersecurity industry for a startup company as vice president of Sales for North America and later expanded to Europe.   
Vicki previously served on the board of the Building Energy Exchange. She has mentored women interested in energy careers through Women in Sustainability and Energy (WISE).  
She received a B.S. degree in Electrical Engineering and a M.S. degree in Management from NYU-Poly (formerly Polytechnic University).