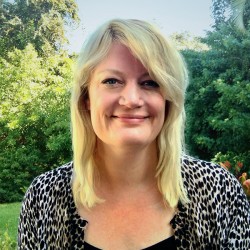 Director and In-House Counsel, Health and Environment
Sara Hayes leads ACEEE's work related to health and the environment. Her research focuses on the human health impacts of energy efficiency in buildings and on the air quality effects of saving energy. Sara manages the health and environment program, overseeing research focused on identifying opportunities to use energy efficiency to reduce pollution and improve human health. Sara manages major projects that span multiple teams and topic areas. She defines strategic direction for research priorities and manages complex project deliverables and budgets. She represents ACEEE externally to media, stakeholders, funders, and the efficiency community, as a nationally recognized expert. Sara also serves as ACEEE's in-house counsel, overseeing legal matters and interpreting energy and environmental laws. She reviews and negotiates contracts, communicates with outside counsel, and coordinates with senior leaders, operations, grants administration, and program staff, to ensure compliance with contracts and laws.
Sara is a licensed attorney in the state of New York and serves on the U.S. Environmental Protection Agency's Clean Air Act Advisory Committee and is a member of the Board of Directors for the South-central Partnership for Energy Efficiency as a Resource. Sara joined ACEEE in 2010.