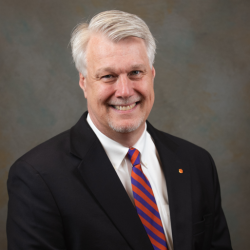 Prof. Mark Johnson is a Professor of Materials Science and Engineering and Director of the Center for Advanced Manufacturing at Clemson University. His research focusses on the investigation of clean-energy technologies and innovation in advanced manufacturing, new materials and semiconductor technologies, as well as the translation of these new technologies to commercial applications. In addition to an academic, he has been a federal government official and a successful venture capital supported technology entrepreneur.
In the summer 2019, he was the Fulbright-Hall Distinguished Visiting Professor at the Institute for Entrepreneurship and Innovation in Vienna (Austria) examining entrepreneurial pathways for the advancement of new energy technologies comparing the United States and Central Europe.
Prof. Johnson earned his PhD from NC State and his SB from MIT, both in in Materials Science and Engineering.