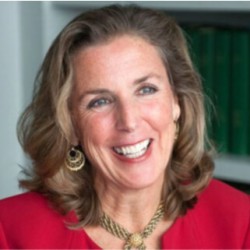 Kathleen "Katie" McGinty is Vice President and Chief Sustainability and External Relations Officer for Johnson Controls, the global leader for smart, healthy, and sustainable buildings technology. Katie serves on the Executive Committee of the company and helps drive Johnson Controls top tier sustainability performance including recognition as one of the World`s 100 Most Sustainable Corporations.
Katie champions technology development, sustainability, and creative policies to solve tough environmental problems. Katies loves opportunities where she can work with people who bring diverse insights and ideas to help chart a positive course for the future of the planet. With her team, Katie is driven by staying on the cutting edge of new trends, ideas, and themes to tackle climate change, encourage smart buildings and energy efficiency, drive impactful net zero carbon strategies, and bring forward initiatives, technologies, and partnerships that are needed to get the job done.
She has over 25 years of public and private sector experience, and she is a recognized innovator in clean energy and environmental protection. Her public sector career includes being the first woman to serve as Chair of the White House Council on Environmental Quality and as Deputy Assistant to President Clinton (1993-1998), as Pennsylvania Secretary of Environmental Protection (2003-2008), and as Chair of the Pennsylvania Energy Development Authority (2004-2008).
Katie currently serves on boards including the International Steering Committee of the World Sustainable Development Summit, Alliance to Save Energy, the Keystone Policy Center, the Carnegie Mellon Scott Institute for Energy Innovation, the Energy Futures Initiative, and the Goldman Sachs Renewable Power LLC.
She holds a Bachelor of Science in Chemistry from St. Joseph's University and a law degree from Columbia University. She served as a Senior Visiting Fellow at TERI in New Delhi, India. Katie has received awards and recognitions, including honorary doctorates from Muhlenberg University, Dickinson College, and Clarion State University. Katie is also recognized for her commitment to the environment, including being named "Woman of the Year" awardee from the Women's Council on Energy and the Environment, and one of the Top Women in HVAC list of ACHR News, one of the Top 100 Women in Sustainability List by Sustainability Magazine and one of 25 women honored for climate leadership by GreenBiz.