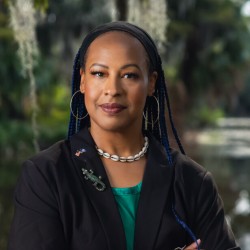 Photo by Joshua Franzos
Colette Pichon Battle is a generational native of Bayou Liberty, Louisiana. As founder and Co-Executive Director of the Gulf Coast Center for Law & Policy (GCCLP), she develops programming focused on equitable disaster recovery, global migration, community economic development, climate justice, and energy democracy. 
Colette worked with local communities, national funders, and elected officials in the post-Katrina and post-Deepwater Horizon disaster recovery. She was a lead coordinator for Gulf South Rising 2015, a regional initiative around climate justice and just transition in the South. In 2015 Colette was selected as an Echoing Green Climate Fellow, in 2016 she was named a White House Champion of Change for Climate Equity, and in 2018 Kenyon College awarded her an Honorary Doctorate. In 2019, Colette was named an Obama Fellow for her work with Black and Native communities on the frontline of climate change and she gave a TED Talk, "Climate change will displace millions. Here's how we prepare." In 2021, Colette was appointed a Margaret Burroughs Community Fellow. In addition to developing advocacy initiatives that intersect with race, systems of power, and ecology, Colette directs GCCLP's legal services in immigration and disaster law. 
Under Colette's leadership, the Gulf Coast Center for Law & Policy co-chairs the national Water Equity and Climate Resilient Caucus with PolicyLink, serves on the steering committee of the Ocean Justice Forum, and anchors the five-state, multi-issue initiative Gulf South for a Green New Deal. Colette also co-founded and led the Red, Black & Green New Deal, the national climate initiative for the Movement for Black Lives. 
Colette serves on the boards of the US Climate Action Network and the Highlander Research and Education Center, advises the Kataly Foundation's Environmental Justice Resourcing Collective, and chairs the Equity Advisory Group of the Louisiana Governor's Climate Initiative Task Force.