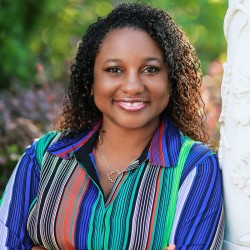 Chandra Farley is an activist at heart and credits her parents with instilling a sense of duty to always advance justice and fairness. With a passion for elevating the connection between environmental stewardship, strong communities, and our daily lives, Chandra continues to build on a professional foundation in the design and construction industry—a foundation that informs her perspective on the built and natural environments.
Chandra currently serves as the CEO of ReSolve, a consulting practice with a mission to increase the impact of climate justice initiatives by creating equity-centered delivery infrastructure. Chandra also founded the "Good Energy Project" with a vision to connect the transformational power of Black women to the movement for just and equitable clean energy. With a career history at Southface Energy Institute and the Partnership for Southern Equity, Chandra is well-known in energy, utility, and climate justice circles. She has formed national partnerships to improve the environmental and financial sustainability of nonprofit facilities and developed equity-centered strategies to advance energy and climate justice at local, regional, and national scales.
Chandra is the co-chair of the Hive Fund for Climate and Gender Justice Advisory Board, chair of the Georgia NAACP Environmental and Climate Justice Committee, a graduate of the EPA's Environmental Justice Academy, and President Emeritus of the Environmental Justice Academy Alumni Association. She serves on the Board of Directors for Community Movement Builders, the Georgia Conservation Voters Education Fund, the People's Justice Council/Alabama Interfaith Power & Light, and Greenlink Analytics.