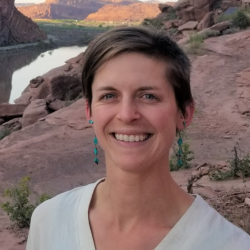 Technical Assistance Coordinator, Residential Retrofits for Energy Equity
Carolyn Conant works on ACEEE's Residential Retrofits for Energy Equity (R2E2) initiative, which provides deep technical assistance to state, local, and tribal governments as well as community-based organizations to jumpstart energy upgrades for single family and multifamily affordable housing, especially in frontline communities. She joined ACEEE in 2022. 
Prior to joining ACEEE, Carolyn managed Fort Collins Utilities' Bloomberg Mayors Challenge-winning residential energy efficiency program, Epic Homes. Before that she worked on municipal sustainability objectives, community engagement, strategic planning, and implementation related to the City of Fort Collins' Our Climate Future Plan, which centers equity and leads with race while working towards the community's clean energy, waste reduction, and carbon reduction goals. 
Carolyn earned a master of arts in environmental sociology from Colorado State University and a bachelor of arts in social and cultural analysis and metropolitan studies from New York University.