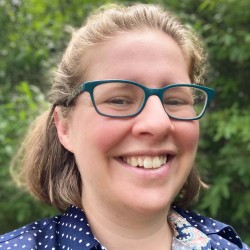 Senior Researcher, Industry Program
Anna Johnson conducts research and analysis to support industrial decarbonization efforts. She joined ACEEE in 2022. Her work has focused on enabling the use of variable renewable power by industry, strategic integration across approaches to supply and demand side energy management, and projects specific to steel, aluminum, and petrochemical manufacturing.
Prior to joining ACEEE, Anna worked at the Western Pennsylvania Conservancy, in the Pennsylvania Natural Heritage Program as a conservation planner and communication specialist. She developed public-facing reports and geospatial databases to help prioritize state-level conservation management and planning goals.
Anna earned a PhD in geography and environmental systems from University of Maryland, Baltimore County, and a bachelor of arts in liberal arts from St. John's College.
Areas of Expertise:
Industrial technologies and renewable energy
Policy-relevant analysis of complex systems
Coordinating and facilitating projects with diverse stakeholder groups