At this year's virtual 14th Hot Water Forum, ACEEE hosted a record breaking 265 attendees who participated in three days of presentations on what's next in the hot water industry including the latest technologies, policies, and programs that help shape building codes, spur workforce development, advance equity, and address climate goals.  
ACEEE's Hot Water Forum is the only national conference focused exclusively on water heating, the second largest use of energy in residential and multifamily homes. Attendees had the opportunity to connect with industry leaders, advocates, startups, and other stakeholders as this tight-knit community.
For more than a decade, the annual forum has brought together a diverse group of equipment and component manufacturers; water, gas, and electric utility professionals; local, state, and federal agency personnel; energy efficiency program planners, operators, and evaluators; plumbers and installers; policymakers; NGOs; engineers, and consultants. 
Click here to see a list of organizations that participated in the 2021 virtual forum.
Testimonials:
"The ACEEE Hot Water Forum was a great event! I learned more than expected from a variety of presenters. I would recommend the forum to anyone from a newcomer to the topic (like me) to an industry expert. I appreciated the forum's focus on equity as a lens across multiple sessions" -Gina Palino, Climate Resolve
"Excellent sessions to take a deep dive into technology and marketing trends of the water heating industry, and better understanding of regulations, responses, opinions, etc. from all stakeholders. Great forum!" -Jim Yin, Midea America Corporation
"The Hot Water Forum is at the forefront of the most meaningful trends in efficiency and decarbonization of hot water production in homes and businesses.!" - Fred Fraisse, Neoperl
Plenary Panel
In Hot Water: A Multi-"fauceted" Approach and Divergent Paths to 2050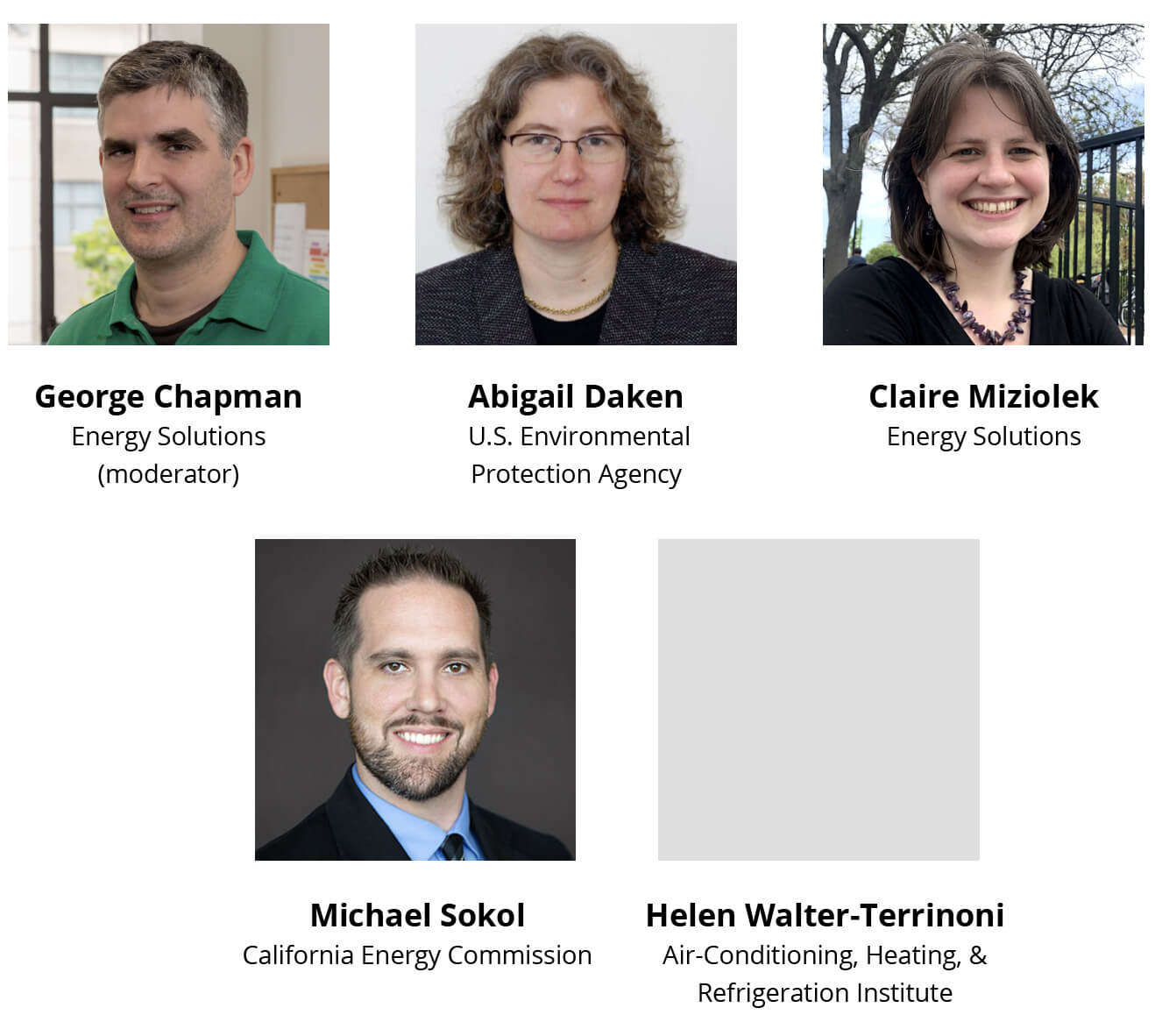 Sponsors
Platinum
Gold
Silver
Bronze
Steering Committee
George Chapman
Energy Solutions
Megan Ching
Association for Energy Affordability, Inc.
Jim Cika
International Code Council

Amin Delagah
TRC Companies, Inc.

Bouba Dieme
Consortium for Energy Efficiency
Karen Fenaughty
Florida Solar Energy Center, University of Central Florida
Ruth Georges
Eversource Energy
Paul Glanville
Gas Technology Institute
Kyle Gluesenkamp
Oak Ridge National Laboratory
Bill Hosken
A.O. Smith
Kim Katz
Consortium for Energy Efficiency
Maggie Kelley Riggins
Southeast Energy Efficiency Alliance
Gary Klein
Gary Klein Associates
Ben Larson
Larson Energy Research
Christoph Lohr
International Association of Plumbing and Mechanical Officials
Jim Lutz
Hot Water Research
Tania Ullah
National Institute of Standards and Technology
Larry Weingarten
Consultant
Geoff Wickes
Northwest Energy Efficiency Alliance
Aaron Winer
Northwest Energy Efficiency Alliance