---
Hot Water Forum Rescheduled
Due to the escalating health concerns related to the spread of the coronavirus disease (COVID-19), ACEEE has made the decision to reschedule the 2020 Hot Water Forum to July 20-22. The conference will take place at the same venue as originally planned, the Crowne Plaza Atlanta Midtown. While no one can predict exactly how the situation will continue to unfold, our attendees' health and safety is of the utmost importance. We will continue to monitor the situation closely and will follow the advice of the US Centers for Disease Control and Prevention.
---
Forum Overview
Explore the smartest, most cost-effective ways to improve the efficiency of hot water systems, the second largest energy user in the home. In addition, learn about the intersection between hot water systems and important issues like equity and decarbonization.
At this unique two-day event, with more than 25 breakout sessions on new programs and ideas, you will meet with industry leaders and fellow professionals in a welcoming community that is passionate about hot water issues in the latest technology, system design, sectors, and programs and policies.

Join us for the only conference that deals exclusively with hot water systems.
This two-day event offers:
Sessions on multifamily hot water systems, grid-connected water heating, and optimal plumbing system design
 
Presentations exploring how hot water systems fit into city-level policies for greenhouse gas reductions and building electrification
Example utility programs that promote energy-efficient water heating technologies
 
Networking opportunities with top experts in the hot water industry
 
Plenary Panel

Plenary Panel: Making Efficient Water Accessible for Everyone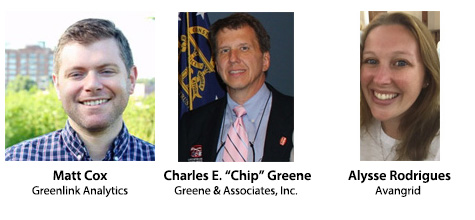 The panelists will approach this subject with three different perspectives: a city policy and planning expert, a low-income utility program administrator, and a plumbing and contracting business owner.
Panelists: Alysse Rodrigues, Program Administrator, Home & Energy Solutions – Income Eligible, Avangrid
Charles E. "Chip" Greene, President, Greene & Associates, Inc.
Matt Cox, CEO & Founder, Greenlink Analytics
 
Likely participants
Equipment and component manufacturers; water, gas, and electric utilities; local, state, and federal agency personnel; energy efficiency program planners, operators, and evaluators; plumbers and installers; policymakers; NGOs; engineers, and consultants.
Click here to see a list of the organizations that participated in 2019.
Take a look at this short recap of HWF 2019's opening plenary.
Steering Committee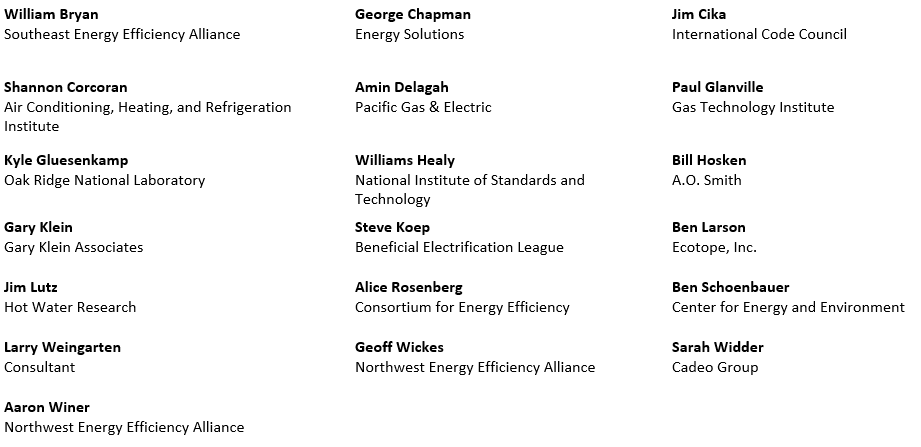 Registration

The registration rates remain the same for the July forum, but the deadline dates have been updated.
Register Here
Shameless Commerce
Back by popular demand, Shameless Commerce returns and will be packed with rapid-fire presentations on new products and services.
Shamless Commerce is an opportunity for companies to present a short (2.5 minute) infomercial on their latest and greatest. Audience participation will judge the best pitch.
Space is limited to 20 participants, and you must be registered for the conference to present. To sign up, please email Hannah Bastian with your pitch and contact information by July 6, 2020.
Pre-Conference Opportunities
Rheem's Water Heater Division headquarters – Roswell, GA
We believe this tour will be offered again over the July dates. Those who have already paid and were scheduled to attend will be given the opportunity to attend in July before we open to others. More information will be provided as details are worked out.
Join us on a trip to Rheem's Water Heater Division headquarters in Roswell, Georgia. During the visit, you will have an opportunity to interact with members of Rheem Water Hater Division leadership and tour one of Rheem's four US Innovation Learning Centers (ILCs), where plumbers receive training on how to sell, install, and service Rheem products and sustainability best practices. In addition to the ILC facility and hands-on training room, visitors will also see our on-site innovation lab, where work is done on the next generation of water heating products, features, and functionality.
The cost is $15 per person and is limited to 50 registrants. Lunch and transportation will be provided by Rheem. 
Rheem reserves the right to decline participation to any individual for any reason due to the highly proprietary and confidential nature of many of their manufacturing processes. Employees and representatives of other water heater manufacturers are not permitted to attend.
Accommodations
All conference activities will be held at the Crowne Plaza Atlanta Midtown. The deadline for requesting accommodations at our discounted group rate is Monday, June 29, 2020. To book accommodations, you can either call directly 855-646-8549 or use this online link. Be sure to mention the ACEEE group code of ACE to receive the $169 rate.