Registration and Accommodations | Pre-Conference Workshop | Continuing Education | Keynote Speaker | Sponsorship Opportunities | Advisory Organizations & Sessions Co-Hosts | Past CHEE conferences 
ACEEE's Conference on Health, Environment, and Energy (CHEE) is returning to New Orleans, January 21-23, 2020. The event will showcase the groundbreaking research of ACEEE's Health and Environment program as well as the work of prominent experts and academics in this growing field. Join innovative leaders from a variety of professions in the "Big Easy" to explore how energy choices can affect our health and the environment. 
Participate in multiple tracks, plenary panels, moderated discussions, and interactive breakout sessions. Physicians (CMEs), nurses (CNEs), public health professionals (CHES/CPH), architects (HSW LUs), and building science professionals can also earn continuing education credits at this event.
All of these features, plus lunches, receptions, and fun activities make for an exciting opportunity to learn and network while enjoying the sights and sounds of the birthplace of jazz! View the schedule at a glance for more information on the presentations.
Likely participants
Health professionals; researchers; policymakers; environmental regulators and advocates; utility staff; architects; general contractors; NGOs; low-income community advocates; consultants; and energy experts. 
We had a fantastic turnout for the first CHEE conference in New Orleans. Click here to see a list of the organizations that participated in 2018.
You will engage with dynamic leaders on cutting-edge research and programs. In interactive sessions, you will explore the health impacts of climate change and energy efficiency.
Here's a sneak peek at some of the sessions and speakers:
Collaborating for Equity: How Cross-cutting Programs Can Support Vulnerable Populations
Facing Climate Change and the Silver Tsunami: Strategies for Creating Healthy Homes for Aging Populations
Health Professionals Advocating for Energy Policy: Success Stories
Translating Health and Clean Energy Targets into Action: Working with States and Cities
Funding Programs

Pre-conference Workshop - The Building Performance Institute Healthy House Principles (HHP) Certification Prep
Tuesday, January 21 from 1:00—5:00pm
The Building Performance Institute (BPI) will be presenting a pre-conference training workshop for those interested in earning the Healthy Housing Principles (HHP) professional certification!  The HHP provides an overview of the factors in a home that can negatively affect health, fundamentals of what makes for a healthier living environment and the related terminology. Included in the training is the HHP Reference Guide and a code that can be used to take the BPI online exam to earn the new Healthy Housing Principles professional certificate.
The training is open to all with a steep discount offered to those who are also attending the Conference on Health, Energy, and the Environment. The workshop trainers include: Kevin Kennedy of Children's Mercy Hospital of Kansas City;  Joe Medosch of Hayward Healthy Home Score; and Rick Hall of Building Science Professional Training LLC.
For more information about BPI, please visit here. To register for the workshop, click the registration button below.
Continuing Education Credits
Opportunities for conference attendees to earn continuing education credits are available for physicians, nurses, certified health education specialists, BPI healthy home evaluators, and architects. A minimal processing fee of $50 will be charged for CME credits.
Keynote Speaker
You won't want to miss the Keynote Address, "Climate Change: A Public Health Approach" presented by Georges C. Benjamin, MD.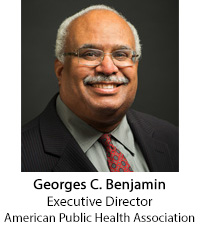 Dr Benjamin is a well-known health policy leader, practitioner and administrator. He currently serves as the executive director of the American Public Health Association, the nation's oldest and largest organization of public health professionals. He is also a former secretary of Health for the state of Maryland. 
Dr. Benjamin is a graduate of the Illinois Institute of Technology and the University Of Illinois College Of Medicine. He is board-certified in internal medicine, a Master of the American College of Physicians, a fellow of the National Academy of Public Administration, a fellow emeritus of the American College of Emergency Physicians, and a member of the National Academy of Medicine. He serves on several nonprofit boards such as Research! America, the Truth Foundation and, the Reagan-Udall Foundation. He is also a member of the National Infrastructure Advisory Council, a council that advises the President on how best to assure the security of the nation's critical infrastructure. Read full bio
Advisory Organizations and Session Co-Hosts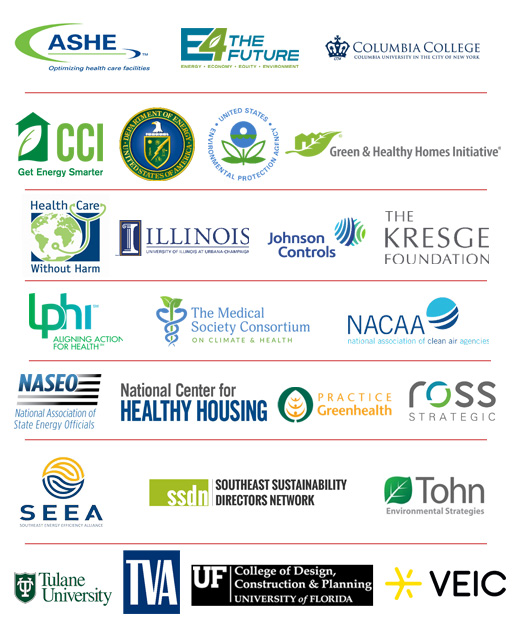 Registration and Accommodations


Groups of 10 or more can register at the rate of $652.50. Contact aceeeconf@aceee.org for more details. A $100 processing fee will be charged for cancellations.

All conference activities will be held at the Hyatt Centric French Quarter New Orleans. Book your room early using the link below or call the Hyatt Centric direct at (504) 586-0800 to receive the ACEEE special group rate of $174+ single/double. We encourage you to book your accommodations as soon as possible to ensure the rate and availability.

Sponsorship Opportunities
If your organization would like to learn more about the various sponsorship levels and the associated benefits, please contact Lynn Pyle or Sara Hayes.
For information on sponsorship opportunities for the 2020 Conference on Health, Environment, and Energy, download our sponsorship flyer.