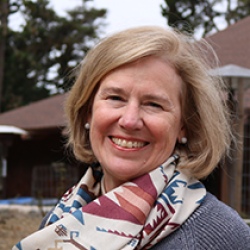 Susan Stratton is the executive director of the Northwest Energy Efficiency Alliance (NEEA) whose purpose is to maximize energy efficiency in the Northwest. She serves as the primary liaison between NEEA, its regional funders, and other supporting organizations and governments. Ms. Stratton has more than 30 years of leadership experience in energy policy, utility regulation, economics, and professional education programs. Prior to joining NEEA, she held various executive positions in her home state of Wisconsin. Most recently, as executive director of the Energy Center of Wisconsin, Ms. Stratton provided direction to a staff of economists, energy analysts, professional engineers, architects, evaluators, and educators in energy research, demonstration, program design, and education.
She has served in leadership roles in the Wisconsin Public Benefits program, the Midwest Energy Efficiency Alliance, and for the STAC program partnership between the US Department of Energy, the Association of State Energy Research and Technology Transfer Institutions, and the National Association of State Energy Officials.
Ms. Stratton served on Wisconsin's Task Force on Climate Change as well as the Task Force on Energy Efficiency and Renewables while also working with the Midwestern Governors Association to identify policies and strategies that support the Energy Security and Climate Stewardship Platform and the Industrial Initiative for the Midwest. She led the Indiana Utility Regulatory Commission's effort to implement a statewide demand-side management program. As chair of the Electric Power Research Institute's (EPRI) Public Advisory Committee and Energy Efficiency and Smart Grid, Ms. Stratton advises EPRI research teams on energy efficiency on smart grid issues. She also was chair of the Association of State Energy Research and Technology Transfer Institutions. She promoted and facilitated energy RDD&D communication, cooperation, coordination, and collaboration among its members and with other public and private organizations. In 2006 and in 2010, she led the Wisconsin Energy Efficiency and Renewable Energy Potential study teams that investigated the achievable potential for energy efficiency and renewable energy, which led to the approval of increases in the level of public benefits funds committed to energy efficiency and customer-sited renewable energy.
Ms. Stratton also has served as executive director for the Public Utility Institute of Wisconsin and was appointed as the administrator of the Electric Utility Division of the Public Service Commission of Wisconsin. She also served in energy research roles at the Virginia State Corporation Commission and the University of Pennsylvania.
She holds a master of science in economics with a focus in industrial organization from the University of Wisconsin at Madison, a master of arts in economics from Virginia Commonwealth University, and a bachelor of arts in economics from Le Moyne College in Syracuse, NY.