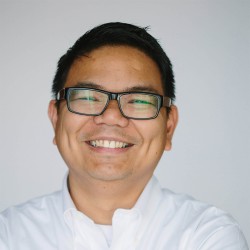 Benjamin de la Peña is the CEO of the Shared-Use Mobility Center, a public-interest organization dedicated to achieving equitable, affordable, and environmentally sound mobility across the United States. He also chairs the Global Partnership for Informal Transportation. He is a Senior Fellow on Mobility for the Canadian Urban Institute and serves on the U.S. Advisory Group of the Institute for Transportation and Development Policy. He also founded the boutique consulting firm Agile City Partners.
Benjamin previously served as Chief of Strategy and Innovation for the Seattle Department of Transportation (SDOT), where he led the development of ground-breaking and nationally recognized technology and mobility strategies such as Seattle's New Mobility Playbook and the draft Transportation Information Infrastructure Plan. At SDOT, he initiated lean transformation and introduced agile methodologies. He spent nearly a decade in philanthropy working on urban and transportation issues in the United States and across the Global South.
Benjamin writes and curates Makeshift Mobility, a fortnightly newsletter on innovations in informal transportation. He served on the advisory committees for L.A.'s Transportation Technology Strategy, the Mobiprize, and the Cooper Hewitt Museum's exhibition The Road Ahead: Reimagining Mobility. He has worked on urban development issues encompassing technology, transportation, and informality. His ideas have been featured in Citylab, Atlantic Cities, Next City, FutureEverything, and TED City 2.0. He believes that emerging transportation technologies should serve as critical leverage points for correcting societal wrongs and dismantling racism and injustice.