"ACEEE continues to put on well thought out, organized conferences, despite tremendous challenges this year. I've been invited to participate in multiple "virtual" conferences this year, and only ACEEE has been able to replicate the live experience in a meaningful way." — George Chapman, Energy Solutions
The hot water industry is currently experiencing a renaissance. Join us in March 2021 as we explore new technologies and methods that help us provide efficient hot water to users in commercial, multifamily, and residential buildings.
The 2021 Hot Water Forum Virtual will be held over four days with more than 15 breakout sessions on cutting-edge technologies, system design, programs, and policies. You will have the opportunity to network with industry leaders and fellow professionals, all passionate about hot water issues in all sectors. New to 2021 will be the opportunity to watch demonstrations on the latest products, technology, and system designs.
Click here to see a list of the organizations that participated in the 2020 virtual forum.
Call for Presentations
The call for presentation and demonstration ideas is now open. Scroll down for more details and submit your ideas by November 13.
Submit Online
Sponsors
Call for Presentations
Please share your ideas for oral presentations and demonstration ideas on new water heating products, codes and standards program for energy-efficient hot water systems, and ways to use these systems to meet emissions reduction goals. The deadline: Friday, November 13. 
Here is a list of the topics we are seeking your input on: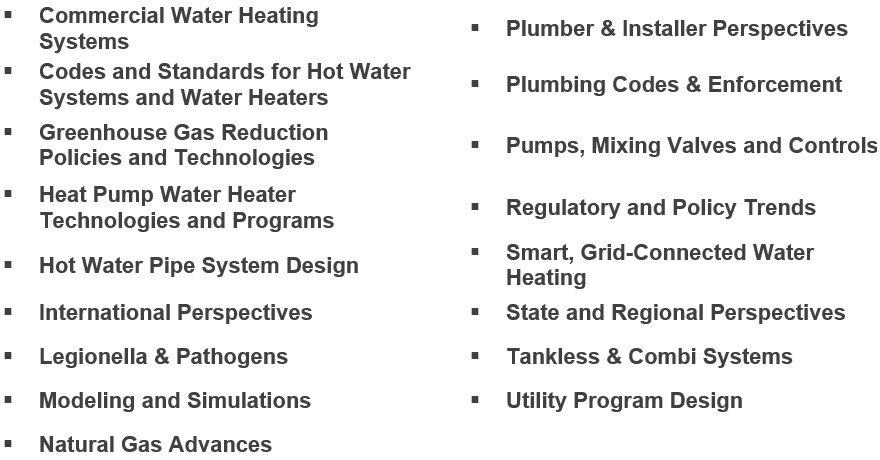 Share your knowledge and innovations! All presentation and demonstration ideas accepted through November 13.
Submit Online
Sponsorship Opportunities
For information or questions on sponsorship opportunities for the 2021 Hot Water Forum, please contact Chris Perry or Charlie Herron.
Steering Committee
William Bryan
Southeast Energy Efficiency Alliance
George Chapman
Energy Solutions
Jim Cika
International Code Council
Bouba Dieme'
Consortium for Energy Efficiency
Amin Delagh
Pacific Gas & Electric
Paul Glanville
Gas Technology Institute
Kyle Gluesenkamp
Oak Ridge National Laboratory
William Healy
National Institute of Standards and Technology
Bill Hosken
A.O. Smith
Kim Katz
Consortium for Energy Efficiency
Gary Klein
Gary Klein Associates
Ben Larson
Larson Energy Research
Jim Lutz
Hot Water Research
Shawn Oram
Ecotope, Inc.
Ben Schoenbauer
Center for Energy and Environment
Larry Weingarten
Consultant
Geoff Wickes
Northwest Energy Efficiency Alliance
Sarah Widder
Cadeo Group
Aaron Winer
Northwest Energy Efficiency Alliance