EER is the premier biennial conference on policies and programs to reduce customers' energy waste and thus help utilities meet the grid's demand for electricity.
Due to on-going public health concerns and restrictions for COVID-19, EER21 will be a virtual conference over five days, October 19-21 and 26-27 with plenaries, break-out sessions, social and networking events, and workshops
Energy efficiency's role in a transforming utility industry has never been more essential. More and more utilities have set ambitious corporate carbon reduction goals. Policymakers are expanding their expectations for what energy efficiency programs deliver, from greenhouse gas reductions to job creation, economic recovery to bill affordability, many with a focus on energy equity and justice.
We hope that you will add EER21 to your calendar and you will plan to join us.
Likely participants
Utilities and program administrators, regulatory commissions, state government, consultants, manufacturers, environmental organizations, consumer groups, and research institutes.
Click here to see a list of the organizations that participated in the 2019 conference.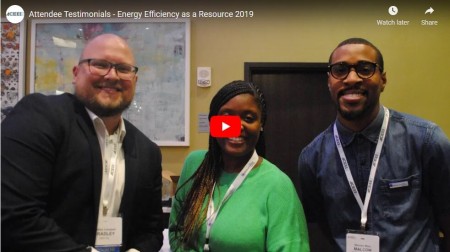 Sponsors
Call for Proposals
The window for proposal submissions is now closed.
We want to hear from you. As we plan the agenda for the National Conference on Energy Efficiency as a Resource, we welcome your proposals for presentations. If selected as a speaker for a break-out session, you will have the opportunity to present before a distinguished group of utility leaders. You will also be able to participate in other sessions and network during small-group gatherings.
 
Your proposal should be no more than 250 words and cover one or more of the following topic areas:
Strategies and program designs for energy efficiency as a resource   
Meeting aggressive resource goals for efficiency (policies and results)

Examples of highly effective efficiency programs

Role of energy efficiency with other distributed energy resources (e.g., integrated DER programs, grid-interactive efficient buildings, net-zero buildings)
Role of energy efficiency in climate goals
Integrating utility efficiency programs into decarbonization efforts (rationale, policy examples, and initial results)

Energy efficiency and beneficial electrification (policy approaches, program examples)

Innovative utility partnerships to leverage efficiency to meet climate change goals (local, state, and/or private)

Programs targeting energy equity and affordability in decarbonization efforts
Policy, analysis, and market design to encourage energy efficiency as a resource
Regulatory mechanisms and utility business models for energy efficiency as a resource, including in wholesale markets

Integrated resource and distribution system planning

Multiple benefits of efficiency (e.g. energy equity, economic recovery, affordability, jobs, health, resilience, environmental improvement, and reliability)
Note: All program presenters are required to register and pay the speaker/moderator registration fee of $350.
Registration
Registration will open in June.
*If your organization is a member of the ACEEE Ally program, there may be available registration waivers for you to use to attend this conference. Please contact us for more information.
Sponsorship Opportunities
If your organization would like to learn more about the various sponsorship levels and the associated benefits, please contact Charlie Herron.