ACEEE's Hot Water Forum is the only technical conference about efficiently making, distributing, and using hot water, regardless of its source. Since 2008, the Hot Water Forum has brought together experts and novices from manufacturing, distribution (plumbing), electricity, gas and water utilities, government, and the research community to learn from each other and build momentum for market transformation. The Forum features two full days of sessions presented by experts in the field on cutting-edge development in these areas.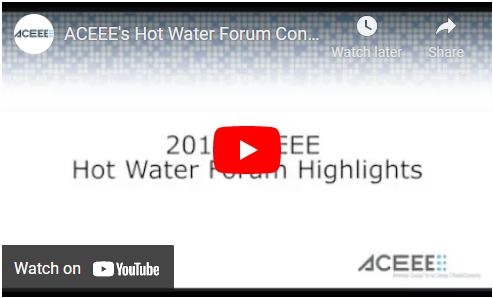 At this year's forum, over 250 participants had the opportunity to meet, share ideas, and learn from each other's latest efforts on research, new water heating technologies, structured plumbing approaches, new demand-reduction devices (e.g., fixtures and water-efficient appliances), and programs for stimulating market uptake of new approaches. 
Participants Included: Equipment and component manufacturers; water, gas, and electric utilities; local, state, and federal agency personnel; energy efficiency program planners, operators, and evaluators; plumbers and installers; policymakers; NGOs; and consultants.
Sponsors
Host
Gold
Silver
Bronze
Networking Breaks
2018 Program Highlights
Pre-conference enhanced hands-on demonstration day at the United Association Local 290 Plumbers and Steamfitters training facility.
Welcome networking reception for attendees and local plumbers and installers
A 2-hour Drain Water Heat Recovery training session that allowed participants to earn 2 AIA / GBCI Continuing Education Credits (CEUs)
New breakout sessions on regulatory changes, smart controls, and workforce training
Plenary panel discussion on grid-connected water heater criteria introducing the concept of grid-connected water heaters, how it affects utilities and consumers, and predictions for the future. Hear from representatives from the Consortium for Energy Efficiency (CEE), the Electric Power Research Institute (EPRI), and others