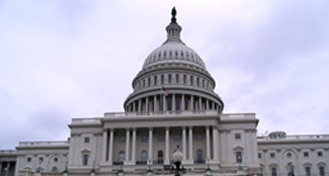 Energy-Intensive, Trade-Exposed Industries
Several United States industries, including glass, steel, metal casting, pulp and paper, aluminum, and chemicals, employ highly energy-intensive processes and are highly exposed to global competition. 
A prevalent concern with climate change legislation among industries and lawmakers with industrial constituents is that it will increase energy costs and potentially compromise the global competitiveness of these energy-intensive, trade-exposed (EITE) industries
If international competitors are not subject to comparable greenhouse gas (GHG) restrictions, US manufacturers could be at a competitive disadvantage in the world market.  Furthermore, if rising compliance costs cause US manufacturers to relocate operations to countries with less stringent standards, or if foreign imports are less expensive because of weaker standards in their country of manufacture, it could serve to increase global greenhouse gas emissions in the long term.  This phenomenon, commonly known as "carbon leakage," could both undermine US efforts at GHG reductions and weaken US manufacturing.  However, smart investments in energy efficiency can reduce or eliminate this burden by lowering total energy bills and decreasing the necessity for purchasing emissions allowances.