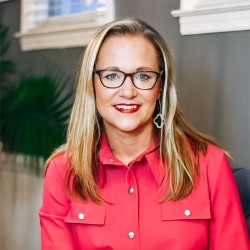 Mandy Mahoney provides vision and strategic leadership while managing RAP's U.S. team and its work.
Before joining RAP, Ms. Mahoney served for a decade as the president of the Southeast Energy Efficiency Alliance (SEEA), applying her regional leadership in climate change, clean energy, affordable housing and environmental justice policy across the 11-state Southeast. In 2021, she followed a life dream to run for the Atlanta City Council. Although she lost in a runoff, she learned and grew tremendously. Prior to SEEA, she served as the city of Atlanta's inaugural sustainability director across two administrations.
Ms. Mahoney is a board member for the American Council for an Energy-Efficient Economy, for Emory University Law School's Turner Environmental Law Clinic, and for the Mississippi Early Learning Alliance. Her previous board service includes the Southeast Wind Coalition, the Southeast Climate and Energy Network, and the Urban Sustainability Directors Network.
She holds a master's degree in environmental management from Duke University and a law degree and bachelor's degree in biology and environmental studies from Emory University.