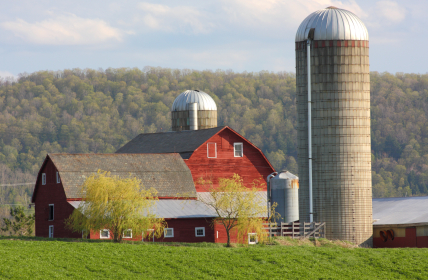 Rural communities and small towns are often unduly burdened by high energy bills that leave households and businesses barely afloat, but energy efficiency can help lessen that burden. It can be an effective tool for empowering these communities, helping them to save money by saving energy. Energy efficiency can also help by spurring economic development, creating jobs, and lowering bills for those most in need while also protecting the environment. However, effective programs are scarce in the almost three-quarters of the United States land area considered rural.
Unique challenges and opportunities
The needs of energy customers in rural communities and small towns differ from those in larger cities, but rural customers are not uniform either. A wide range of end users makes up rural America, from small towns with older homes, to energy-intensive commercial and manufacturing facilities, to family farms and ranches of all sizes. The type of energy resource used can vary greatly depending on geographical location and infrastructure, creating a need for tailored energy efficiency programs. 
Program implementers need to take these differences into account as they respond to the distinct challenges associated with serving remote and rural areas effectively. For example, lower population density means a higher cost to serve each customer per mile. The health of the economy is more dependent on energy-intensive manufacturing and agriculture industries than urban areas, yet the net migration of young populations toward metro areas leaves an aging workforce behind. And rural employment is increasingly in the service sector, but the lack of broadband infrastructure and energy-saving smart grid infrastructure impedes business growth. 
Agricultural Communities
We may not think of agriculture as an energy-intensive business, but the cost of energy as a share of operating costs can rival that of the most energy-intensive manufacturing plants. Increasing efficiency in the agricultural sector and in rural communities can improve the financial health of farms and communities, ease the burden on the electricity grid, and decrease pollution and dependence on imported energy resources.
In recent years, energy efficiency programs targeting agriculture and rural communities have become more common nationwide.  New organizations specifically dedicated to improving efficiency on farms, ranches, and rural small businesses have emerged, and existing programs are widening their focus to include rural energy efficiency issues. Whether by offering rebates for energy-efficient farm equipment, providing online or on-farm audits, or lending technical or financial support, these programs play a key role in aiding producers and rural businesses in reducing their costs, oftentimes enabling them to make ends meet even during periods of skyrocketing fuel prices.  In turn, these successes lead to increased rural economic development, improved food security, reduced dependence on foreign energy sources, and improved environmental quality.
Tackling challenges and seizing opportunities
In the past, ACEEE's rural work focused mostly on agricultural energy efficiency programs. Going forward, we will expand our work to include rural households in small towns and remote frontiers, commercial and industrial facilities, small family farms, and the municipal, cooperative, and investor-owned utilities that serve these areas.
Our new rural research initiative aims to characterize the unique energy challenges and efficiency opportunities in rural America through a series of reports and webinars that engage leaders in the field. Ultimately, we will deliver technical assistance that helps rural utilities capture the untapped potential for large energy and cost savings that can improve the quality of life of rural families. 
In October 2018, we will host our inaugural 2018 Rural Energy Conference to share best practices and work toward solutions that can make real impacts.