Registration | Program | Accommodations | Champion of Energy Efficiency in Industry Awards | Linda Latham Scholarships | Past Industry Summer Studies
Industrial Summer Study Overview
Industrial energy efficiency is changing – gone are the days of a single person in a plant trying to manage plant energy use by themselves with an Multimeter and an Excel spreadsheet – now it's all about integrating energy data into production management systems and empowering decision makers with contextualized historical information and near real-time energy cost forecasting. This year's ACEEE Summer Study on Energy Efficiency in Industry will bring you the latest thinking on managing plant energy use, national energy policy and industrial energy efficiency program administration.
Lunch and dinner sessions will feature thought leaders on the direction of industrial energy efficiency. Each will be chosen for their leadership and ability to see ten-twenty years into the future of industrial energy use.
Likely Participants Include: Energy efficiency program administrators, evaluators, and contractors; public utility commission and consumer counselor staff members, corporate energy managers and government relations professionals; professionals in the utility sector with responsibilities for efficiency programs, resource planning, regulatory compliance and government relations; energy efficiency solution providers; state energy office officials; energy management firms; and energy efficiency advocacy organizations.
Panels
This year's conference will have six panels with concurrent sessions held over two days, each developed around a hot topic in industry energy efficiency.
Strategic Energy Management
Sustainability
Smart Manufacturing
Beyond Best Practices
Policy and Resource Planning
Delivering Results
Networking
One of the most valued features of ACEEE Summer Studies is the opportunity to network. The program will include many breaks of considerable length to facilitate quality conversations. As the title of this year's conference indicates, energy efficiency is all about connecting people with challenges with those who have solutions. We suggest having several business cards on-hand.
New for 2015: This year's Summer Study begins with an interactive Network Cafe that is designed to get everyone talking to each other. This event will also give everyone insight into the industrial energy efficiency community's priorities present and future. The Grand Ballroom A will be set up with small tables, like a cafe, over which groups will engage in discussing the questions put forth by our moderator. So seek out tables with people you do not already know! We think this networking exercise will provide all attendees with new contacts and insights that will benefit them throughout the Summer Study and into the future. We thank the Northwest Industrial SEM Collaborative for their sponsorship of this event.
Informal Sessions
This year the 3:30 to 5:00 sessions on Wednesday and Thursday will hold informal sessions. The sessions on the first day have been scheduled. The discussion groups on the second day will be announced at the beginning of the session.
Scheduled Informal Sessions
These discussion groups have been scheduled take advantage of having so many industrial energy efficiency professionals in one place.  These sessions will be moderated group discussions, not a speaker and audience format. They are set up as either display tables with program information or as repeating conversations on a hot topic such as the EPA Clean Power Plan.  See below for details of specific sessions.
New for 2015: Open Space-style unscheduled Informal Sessions
Do you have a great idea for an informal session but not sure how to let people know about it? This year's Open Space style informal sessions is the answer to your question. We'll all gather in [insert room] and each person who wants to convene a discuss group will have a chance to announce to everyone their discussion topic. You'll be assigned a meeting space and given about half an hour to meet. We'll do two rounds of discussion groups so there will be ample opportunity for everyone to convene a group.
US Department of Energy, Advanced Manufacturing Office, Hall of Programs (Regency A)
The office within the Department of Energy most focused on industry, the Advanced Manufacturing Office (AMO), will have its program staff on hand to inform and answer any questions regarding the following five programs.
Better Plans program
Industrial Assessment Centers
CHP Technical Assistance Program
ISO 50001/Superior Energy Performance
Energy efficiency program tool kit
They will have information on programs and staff available throughout the informal session period to answer your questions and share with you the features and benefits of their programs.
Motor System Market Assessment – Sampling Plan and Field Assessment Discussion (Regency B)
DOE has engaged Lawrence Berkeley National Laboratory (LBNL) to undertake a national Motor System Market Assessment to better understand the current status and energy efficiency opportunities for the installed base of motors and motor-driven system equipment in commercial and industrial facilities.
Information on the statistical sampling plan and field assessment plan that will be used in the upcoming Motor System Market Assessment will be presented, and then a group discussion will follow on ways to efficiently execute the field assessments of installed motor-driven  systems.  In addition, a request will be made to participants to provide any other current data sources on the installed base of motor-driven systems, and organizations that could aid in the upcoming field assessments while maintaining the requirements of the statistical sampling plan.  Participants will also be asked to share any desired outcomes or findings from the MSMA that would help them better serve their customers.
Energy Information Agency (EIA) – Annual Energy Outlook for Industry (Regency C)
The theme for this year's ACEEE Summer Study on Energy Efficiency in Industry is "Energy Efficiency: Integrating Technology, Policy, and People", and there is no better source for this type of integrated analysis than the U.S. Energy Information Administration's Annual Energy Outlook (AEO). The AEO provides long-term projections of the energy sector for both demand and supply of fuels through a fully-integrated model framework. Holding current laws and regulations unchanged, the AEO2015 Reference case provides a basis for examination and discussion of energy production, consumption, technology, and market trends. The AEO2015 also includes alternative cases that explore important areas of uncertainty for markets, technologies, and policies in the U.S. The focus of the session will be on the industrial demand sector, highlighting important model techniques and 2015 updates, along with estimates of structural versus efficiency-related change and implications of alternative cases.                                                                                                                                                                  
EPA's Clean Power Plan (111d) and Industrial Energy Efficiency (Grand E)
The EPA's proposed Clean Power Plan aims to reduce carbon dioxide emissions from the U.S. electricity sector. The draft rule set individual state reduction targets and contained four building blocks that states can choose from to build their compliance plans. End use energy efficiency is one of the compliance mechanisms identified in the draft rule. This session will focus on how programs that encourage energy efficiency in the industrial sector as well as industrial companies can help drive the design and deployment of state compliance plans. The discussion will consider the extent to which industrial energy efficiency (including combined heat and power) can meet state's targets. The role of energy efficiency programs and individual industrial companies in influencing the development of the plans will be explored. The output of the discussion will be a list of ideas on how stakeholders can influence the development of state compliance plans to include industrial energy efficiency.
Scaling Energy Efficiency in Corporate Supply Chains (Delaware AB)
ACEEE is collaborating with Johnson Controls, the US DOE and other partners in a Clinton Global Initiative commitment to help large manufacturers train their small and medium sized suppliers on energy efficiency best practices.  The supplier training leverages a popular energy management practice known as "energy hunts" which is focused on continuous improvement and implementing low-cost/no-cost energy savings opportunities.  Representatives from ACEEE and Johnson Controls will engage attendees in a discussion of the plans and goals for this initiative.
Side Meetings
New for 2015: Rooms will be available to trade and professional organizations that have several members attending our event. This space will provide an opportunity to have private group meetings. Suggested times to host private meetings include Tuesday morning or afternoon.
Registration
Pre-registration for the Industrial Summer Study is now closed.  We will be accepting registrations on-site beginning on Tuesday afternoon, August 1.  Registration will be located on the Mezzanine Level of the Hyatt Regency Buffalo.  To expedite the on-site registration process, feel free to download and complete this registration PDF and bring it with you to the conference.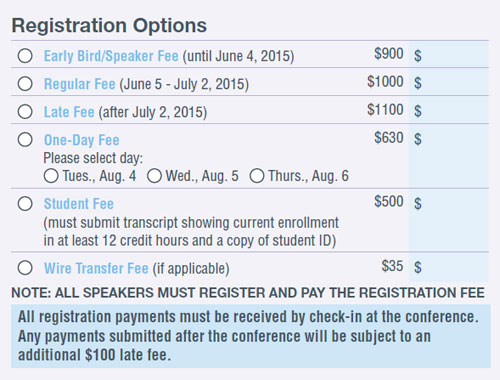 Cancellation and Refund Policy: Registration refund requests due to cancellations must be submitted in writing and received by July 6, 2015. A $150 processing fee will be charged. Cancellation refunds will not be processed after the July 6 deadline. Refunds will be paid by check or credit card chargebacks.
Program
Session Schedules by Panel
Panel 1 | Panel 2 | Panel 3 | Panel 4 | Panel 5 | Panel 6
2015 Schedule-at-a-Glance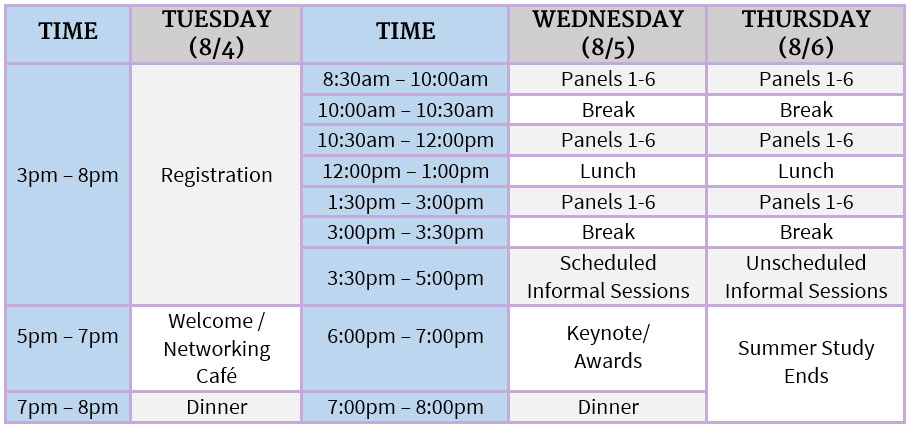 ________________________________________________________
ATTENTION! IMPORTANT INFORMATION ABOUT YOUR ABSTRACT SUBMISSION
If you submitted an abstract(s) to be considered for presentation and/or publication at the 2015 ACEEE Summer Study on Energy Efficiency in Industry, you should have received notification about its status by January 8.
If you have not received notification, it likely went into your spam filter/firewall. As primary author, it is your responsibility to stay informed via the e-mail address you provided.  Please be sure to add precismail.com to your contacts list to ensure that you receive these communications.
If you do not accept precismail.com as a trusted sender, then you may create delays in critical communications regarding the processing of your paper.
_______________________________________________________________
Co-Chairs


Kim Crossman               Bill Hoyt
Energy Trust             National Electrical
   of Oregon        Manufacturers Association
Panels
Click on the panels below to view each list of accepted paper titles and authors.
Panel Leaders: Chad Gilless, EnerNOC and Kevin Wallace, BC Hydro
Strategic Energy Management (SEM) is a hot topic in the industrial energy efficiency field, with some markets continuing to push the envelope of SEM innovation, while others are taking more time to understand the value before they deploy SEM programs. This panel will address this entire continuum, from the initial research, product definition and EM&V considerations needed by regulators and DSM planners to begin SEM programs through the new program enhancements, designs or delivery mechanisms that are pushing SEM's boundaries and expanding savings, persistence, customer satisfaction and other important benefits.
Panel Leaders: Barry Liner, Water Environment Federation and Suresh Santanam, Syracuse University IAC
Expanding demand for energy and natural resources has refocused the discussions on how to most effectively utilize what we have while exploring for new resources. This panel will discuss the application of sustainability concepts and methods for industrial and manufacturing processes; deployment and use of alternative energy sources; associated impacts on water use and natural resource optimization (including resource recovery); and case studies on implementation of sustainability pathways.
Panel Leaders: Paul Hamilton, Schneider Electric and Kay Cabaniss, Baldor Electric Company
Smart Manufacturing looks at manufacturing in a different way. Advanced process manufacturing technology (Smart) incorporates information, technology, and innovation. The goal is to bring about a transformation in the approach to how products are envisioned, designed, manufactured, shipped, and sold. This panel will incorporate case studies, possible future approaches and relate it to productivity (both real and projected), energy efficiency, the environment, and other benefits.
Panel Leaders: Amelie Goldberg, Institute for Industrial Productivity and John Malinowski, Baldor Electric Company
Energy Efficiency has been around for many years. Easy drop-in upgrades and quick fixes – traditionally the industry's bread and butter – have been widely adopted. With a large energy efficiency potential still untapped, how can we move beyond the best practices that brought us the low hanging fruit, in order to get deeper and more persistent savings, or decarbonize a production line entirely? This panel looks at innovative real-life case studies that inspire, with possible application to other enterprises and production sectors. These solutions might involve an emerging technology, engaging a value chain, redesigning a product for a circular economy, broadening corporate decision-making metrics, or shaping corporate culture to prioritize energy efficiency. What did you do, why did it work and what were the measured savings?
Panel Leaders: Raymond Monroe, Steel Founders' Society of America and Richard Murphy, American Gas Association
Energy efficient investments often are long lived capital assets and made based on changes in technology or end of useful life of existing assets. Policy to encourage energy efficiency in the replacement or investment in long lived assets is subject to these longer term macroeconomic and market segment conditions. Even encouraging investment in less critical short lived investments in a plant often has lower priority than reduction in labor or market growth. The interaction of policy and corporate resource planning is key to success. Papers documenting success, lessons learned or innovative approaches are welcome.
Panel Leaders: Jennifer Eskil, Bonneville Power Administration and Peter Goldman, Enbridge Gas Distribution Inc.
Whether managing a plant's energy use or a program's goals and budget, everyone is under pressure to deliver the same thing: cost-effective energy savings from industry, and more of it. This panel will focus on what is working now, providing details on the implementation of industrial efficiency programs or projects that deliver measureable results to utilities, ratepayers, regulators and end use customers.
Accommodations
Hyatt Regency Buffalo
Two Fountain Plaza
Buffalo, NY 14202
Conference Room Rate: $139 S/D
Reservation Cutoff Date: closed
Please contact the Hyatt Regency Buffalo directly (1-888-421-1442) to check on accommodations availability and rates.  By mentioning ACEEE, you may still be eligible for a discounted rate.​
Champion of Energy Efficiency in Industry Awards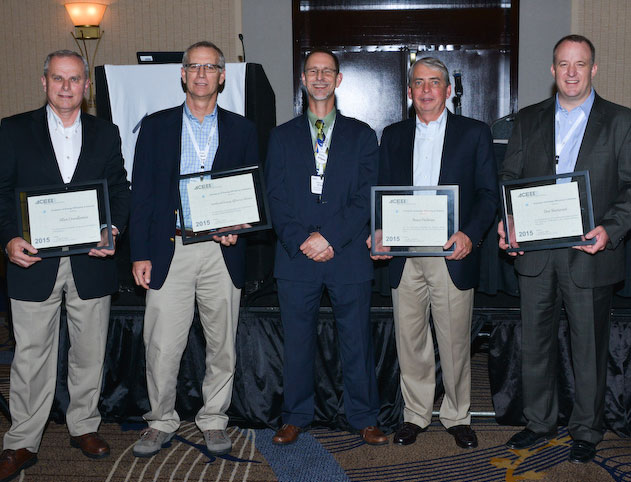 L to R: Allan Crandlemire, EfficiencyOne; Geoff Wickes, NEEA; Ethan Rogers, ACEEE; Bruce Hedman, Institute for Industrial Productivity; and Don Sturtevant, J.R. Simplot Company​. Read more about the champions in the press release
The awards recognize leadership and accomplishment in the energy efficiency field and will be presented at the 2015 ACEEE Summer Study on Energy Efficiency in Industry. Winners will be selected based on demonstrated excellence in the following categories:
Research and Development (R&D) : Excellence in research and development including baseline or background research, as well as R&D of products and practices.
Implementation and Deployment : Effective design and implementation of programs or projects, including achievement of significant impacts on energy use.
Energy Policy : Excellence in energy policy including writing, educating, promoting, and supporting energy efficiency in energy policy at the federal, state, or local level.
Industrial Leadership : Exceptional personal leadership demonstrated in the development, implementation, and growth of important energy efficiency initiatives.
Lifetime Achievement : Continuous leadership that produces sustained impacts over time.
Nominations will be made by peers and the final awards will be chosen by the ACEEE Board of Directors' Awards Committee.
Learn more about the Champion Awards and read about previous winners in the industry sector on our awards page.
Please contact Champions@aceee.org if you have any other questions.
Linda Latham Scholarships

Trevor Terrill, Texas A&M University; Jillian Burgoyne, Syracuse University; Aridam Kumar, UC Berkeley; Alexandra Brogan, University of Dayton; Cody Smith, University of Tulsa
Applications for Linda Latham Scholarships to attend the 2015 Summer Study on Energy Efficiency in Industry are now closed. Scholarships are funded by the Linda Latham Scholarship fund which was established in memory of Linda Latham who served as ACEEE's Chief Operating Officer until her untimely death in September 2011. Linda believed that students bring talent and creativity to the field of energy efficiency especially if we provide a venue to inspire and educate them.
To be eligible, the applicant must be an undergraduate or graduate student in an accredited college or university whose course work is related to energy/energy efficiency, climate change, environmental science, or a related field of study, and who is considering a career in energy/energy efficiency. "Latham Scholars" will be exposed to new ideas and opportunities as they interact with energy efficiency experts from around the world. In turn, Summer Study attendees will be able to meet these exceptional students—a reciprocal opportunity for all!
For the 2015 Summer Study, the Linda Latham Scholarship fund has awarded scholarships to students at three different scholarship levels. Level 1 awardees receive a full conference registration, housing and meals, and up to $500 towards transportation costs. Level II scholars receive full conference registration and housing and meals. Level III winners receive full registration to the conference.  
Applications were accepted through March 23, then reviewed and chosen by a committee of ACEEE staff.
Please contact scholarships@aceee.org if you have questions. For more information, read about the 2013 scholarship recipients or read about past programs at the Summer Study on Energy Efficiency in Industry.